Next-Level Taco Night Made Easy
Aug 30, 2020
I love tacos. And sometimes I want to make them at home. But until this month (for whatever reason), it never occurred to me to serve my favorite tacos as a "build-your-own-tacos-at-the-table" setup.
Until I took this approach, taco prep was stressful. Messy, haphazard, and the tacos almost always wound up soggy before they were served.
Beyond placing everything on the table, the second (and perhaps most important step here) is frying your tortillas. I love the flavor of corn tortillas but have never been able to get them to hold up when I use them at home. By frying them in a little oil, you'll wind up with a very sturdy, slightly chewy/crunchy shell (YUM) that can hold up to the juices from the meat, salsas, and all sorts of other toppings.
I hope this method is as much of a lightbulb moment as it was for me!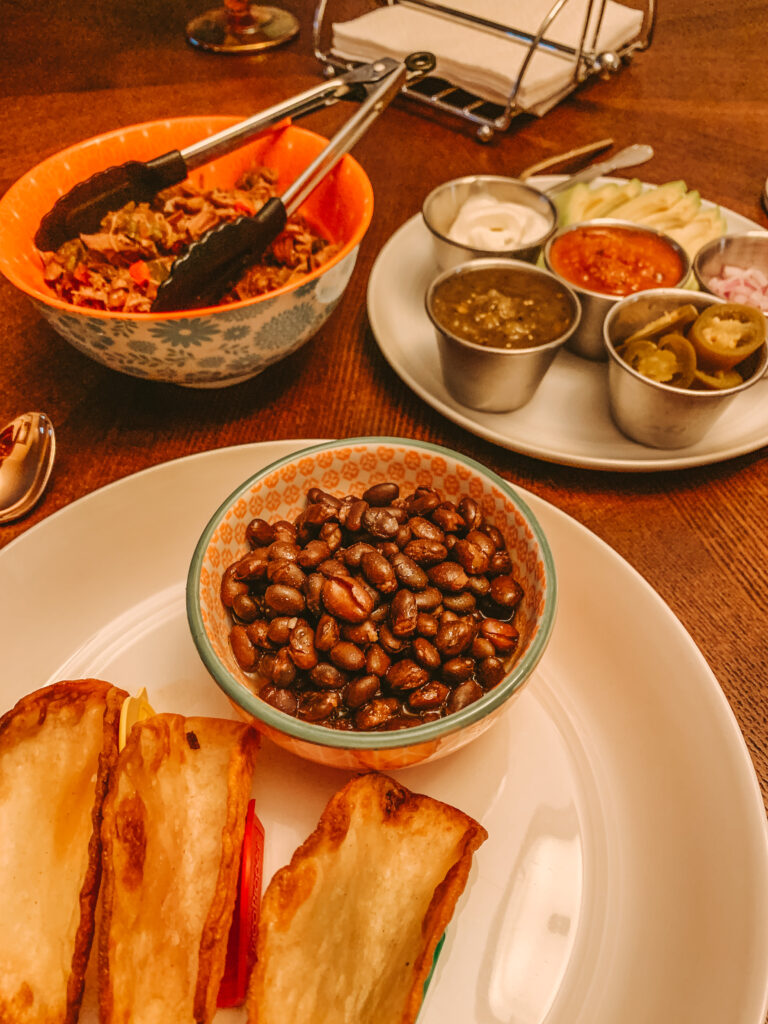 What Goes on the Table
Red and green salsa
Diced red onion
Cilantro
Sliced avocado
Sour cream
Taco meat
Pickled jalapeños
Whatever else your heart desires
How to Fry the Tortillas
You don't need a ton of oil here, just a shallow pour to cover the entire bottom of a nonstick pan. The biggest mistake you can make when frying anything is not getting the oil hot enough, so give it a few minutes to heat up.
Once the oil is shimmering, place 2-4 tortillas (depending on the size of your pan) in the oil. Keep an eye on these — it usually takes about 30 seconds to one minute per side. And keep in mind that they will become significantly less pliable as they cool.
When one side looks lightly browned, use tongs to flip and fry on the other side for another 30 seconds to 1 minute. Remove the tortillas to a paper towel-lined plate and fold into shape. (I usually lay the tortilla down, fold the paper towel over one side to soak up more of the oil, and then use the tongs to fold the tortilla in half.) Repeat until you have enough tortillas!
It's super helpful if you have some of these little taco holders to stick the shells in. While they do hold some of their shape upon cooling, it's much easier to stuff a taco in a stand.
My Favorite Salsas
I used to make my own salsa, but I've found two go-tos that are just as good as the homemade stuff and much, much easier. If you want to make things look extra pretty, put these out in cute little bowls or stainless steel ramekins.
For a red salsa, I recommend Mateo's Gourmet Salsa in medium or hot (neither are particularly spicy in my opinion). It's well-blended (i.e. not chunky), not watery, and super flavorful. I got the mild once when I was planning to feed my dad, and it's fine, too, but I just prefer anything with a little more kick.
For a green salsa option, I absolutely love this Sam's Choice Salsa Verde. Yes, it's Walmart brand. I couldn't believe how delicious it is, and I hope they never stop making it.
My Favorite Taco Meat
This is one of the first recipes I learned to cook. First off, I know that "carnitas" are technically pork, so I just call these "steak tacos" when I make them. This girl calls them "beef carnitas," but whatever. Here's the link to that. Judge her if you want, but regardless of what she calls them, they are so good and sooo easy to make.
I usually prep everything the night before — chop up the peppers and onions, put the spice rub on the meat, put it all in the crockpot, and refrigerate — so that all I have to do in the morning is pull it out and turn it on.
This meat does turn a little soupy with the meat and pepper juices, so instead of putting the meat into the taco shells, just put it in a pretty bowl (or two) on the table, and let folks stuff their own tacos. Tiny tongs are helpful for grabbing out just enough meat and leaving behind the juices. However, putting some of the juice in the serving bowl definitely helps keep the meat hot throughout your meal.
An Easy-Peasy Side
With so many textures and flavors going on in the tacos, I keep my side simple — just a can of black beans, drained and rinsed. Throw them in a pan with just enough water to cover, add a little salt, a drizzle of olive oil, and some black pepper. Let them bubble while you're frying your tortillas, and voila!
So, there you have it! Excellent tacos, minimal hands-on time, and a totally stress-free plating experience. Hope you enjoy!
Subscribe Now
Be the first to read new posts!