Instant Pot Chicken Tikka Masala (Or Something Like That…)
Jun 17, 2020
I cobbled this recipe together using inspiration from a few different recipes. The marinade comes from a butter chicken recipe, and the rest comes from a couple of tikka masala recipes… and I added zucchini and mushrooms that none of them called for because I had them in my fridge, and let's be real, we could all use a veggie in our lives right now.
Maybe it's butter chicken tikka masala, who knows? It might not be authentic, but it's delicious and easy and that's all that matters. 🙂
Marinade
The recipe I followed here said to marinate for 30 mins to 8 hours. I marinated the chicken for a couple of hours in a gallon-size bag. You could also just toss it all around in a glass bowl and cover. Whisk together and toss chicken to coat well.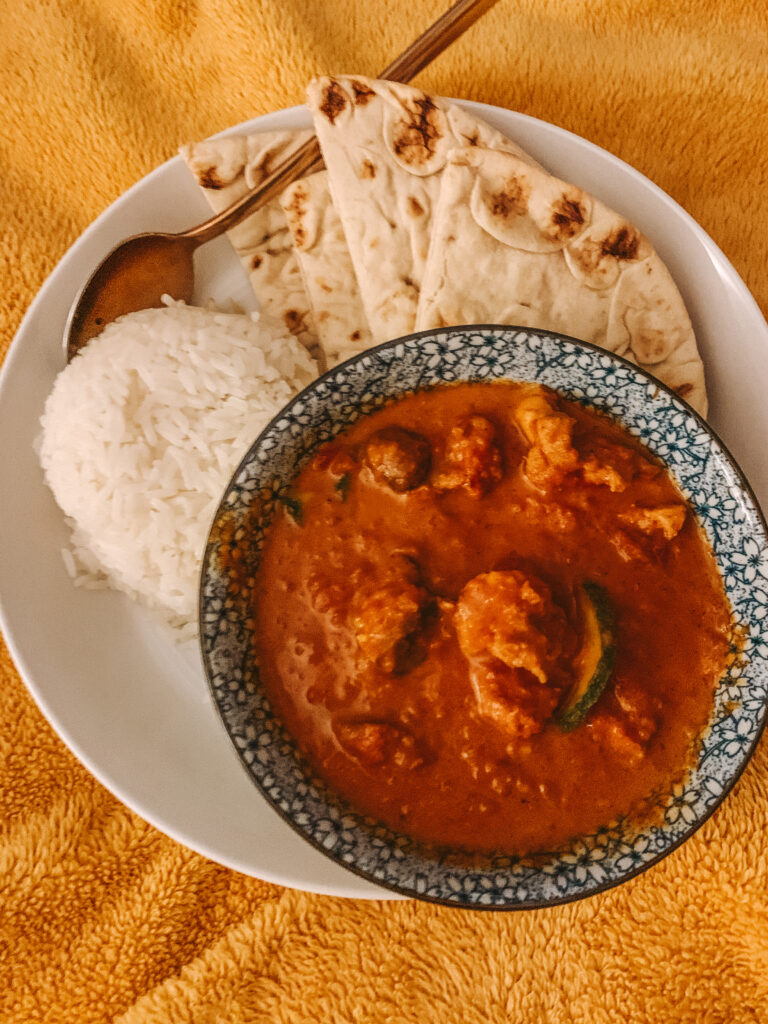 1/4 cup Greek yogurt
¼ tsp ground ginger
¼ tsp garlic powder
1 tbsp lemon juice
¼ tsp paprika
¼ tsp cayenne
1 tsp garam masala
1 tsp salt
Remaining Ingredients & Instructions
1.25 lb chicken thighs (could use 2ish lbs and no veggies; if no veggies and just 1ish lb chicken, maybe half the sauce… could also use chicken breast and just forego the instant pot and cook in a crockpot or Dutch oven on the stovetop)
2 tbsp butter
1 small/medium-sized onion, diced fine
3-5 garlic cloves (depending on size), diced fine
1/2 tsp ground ginger
1 tsp turmeric
2 tsp garam masala
2 tsp ground coriander
2 tsp cumin
2 tsp chili powder (I used ancho chili powder; again, I'm sure it's not authentic, but it was great)
28-oz can crushed tomatoes
1 small zucchini, sliced ¼ inch thick
4 oz. cremini mushrooms, quartered
½ c heavy cream
I processed the onion and garlic in a small food processor until very finely chopped. Simmer onions and garlic in butter in the Instant Pot until softened. And add spices and let simmer a few more seconds until spices are fragrant (stirring to make sure it doesn't stick too badly). Then pour in the crushed tomatoes and stir to combine. Toss in chicken and cook on high pressure for 5 minutes. (Start the rice water to boil when you start cooking the onion, and everything should be ready around the same time.)
When timer goes off on cooker, manually open pressure release valve, and set pot to simmer. Toss in veggies and let simmer a few minutes until tender. Stir in cream. Serve with rice and/or naan. Top with cilantro if you have it (I didn't).
Subscribe Now
Be the first to read new posts!