Cheesy Bacon, Mushroom, & Tomato Quiche
Jun 18, 2020
This quiche was SO GOOD, and you could totally use a frozen pie crust and/or change up the filling to whatever you have in the fridge. Spinach, kale, sweet onion, Canadian bacon… Make it your own. But here's the scoop on how this one went down.
Crust
I don't bake (baking scares me), and I don't really even like pie crust. But I once got brave and used the pie crust from Cook's Country's Double-Crust Chicken Pot Pie, and it will forever be my go-to. It's chewy (not just a dry, crumbly mess), and I love the flavors of the butter and sour cream. (Bonus: This recipe will make enough for two pie crusts. Next time you're feelin' quichey, all you have to do is pull the extra ball of dough out of the freezer.)
Ingredients
½ cup sour cream, chilled
1 large egg, lightly beaten
2 ½ cups (12 1/2 ounces) all-purpose flour
1 ½ teaspoons salt
12 tablespoons unsalted butter, cut into 1/2-inch pieces and chilled
Instructions
Straight from Cook's Country (cause I couldn't explain it better): "Combine sour cream and egg in bowl. Process flour and salt in food processor until combined, about 3 seconds. Add butter and pulse until only pea-size pieces remain, about 10 pulses. Add half of sour cream mixture and pulse until combined, 5 pulses. Add remaining sour cream mixture and pulse until dough begins to form, about 10 pulses."
Okay, here's where I take over:
Take the dough out of the food processor, and lightly knead it to form a ball. Using a bench scraper (or your hands, who cares), halve the dough and form into two equal balls. If the dough is warmish and VERY sticky, place it in the fridge for a few minutes. If it feels pretty cool and firm, continue on.
If you are lazy like me, lay a couple sheets of plastic wrap on the counter, place your dough ball on the plastic, and then place a couple more sheets of plastic wrap on top. Then, roll the dough out between the sheets until it looks like a pie crust and it's about the width of your pie pan. (Minimal mess!)
Flatten the other dough ball into a small disc, cover tightly in plastic wrap, and freeze it for later use.
Quiche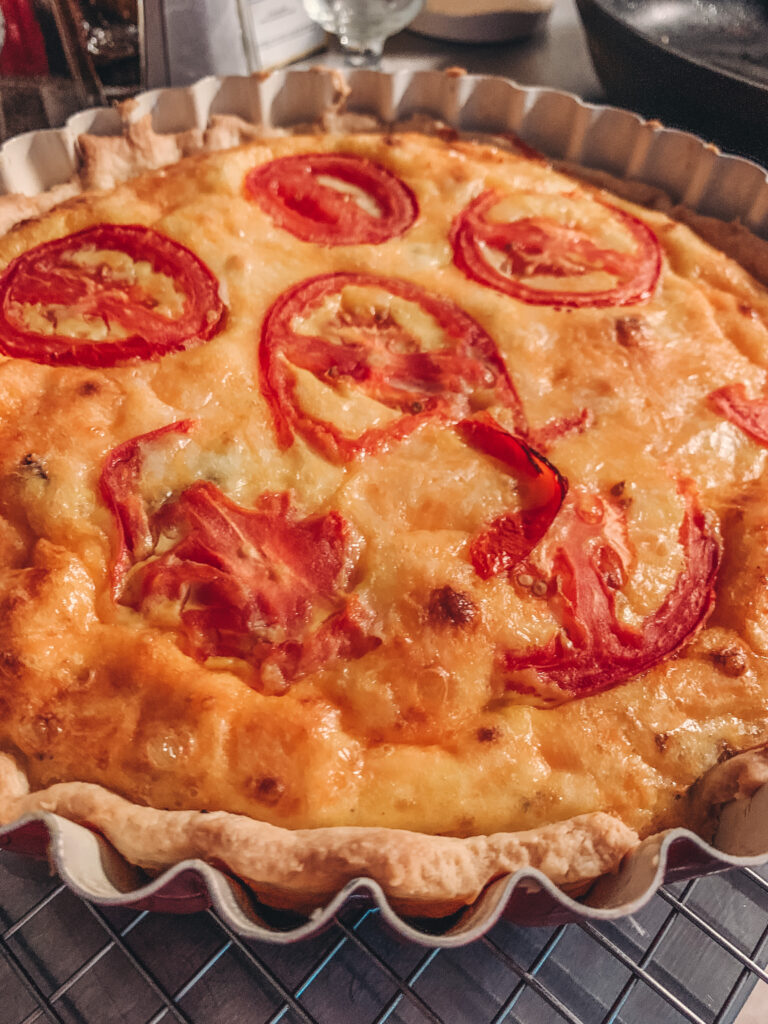 6 eggs
1/3 c heavy cream
1/3 ricotta cheese
1/2 tsp table salt (or 3/4 tsp coarse salt)
Black pepper
4 oz cremini mushrooms, sliced thin
6-8 thin slices of fresh tomato
1 shallot, sliced thin
1-2 garlic cloves, minced
4 oz bacon, cooked very crispy
1 c sharp shredded cheddar, divided
1/4 c Colby & Monterey jack (or not, or whatever other soft shredded cheese!)
Preheat the oven to 400°F.
Cook the bacon until very crispy while you're making the pie crust. Drain on paper towels.
Drain most (not all) of the rendered bacon fat from the pan, and then sautee the shallots and garlic in the same pan for about a minute. Add the mushrooms, and sautee until mushrooms have released most of their moisture. Transfer to a small bowl to cool.
While the mushrooms cook, whisk together the eggs, ricotta, heavy cream, salt, and pepper.
Gently place the pie crust in your preferred pie pan. (I used a lightly oiled tart pan, which is deeper than a standard pie pan; if you use a smaller pie pan, you may need to decrease the quiche filling ingredients by about 1/3 OR fill two crusts to make two quiches. If you decide to use a frozen crust, I'd choose one of the "deep dish" crusts and use the full batch of filling.)
Crumble the cooked bacon evenly in the bottom of the crust.
Place mushroom mixture evenly in bottom of crust, leaving any excess liquid in the bowl.
Sprinkle half the shredded cheddar evenly in the bottom of the crust.
Pour the egg mixture into the crust and shake to ensure it evenly covers all ingredients. Sprinkle remaining cheeses evenly over top.
Place tomato slices on top (truly, I'd use more than what you see in the photo and try to cover the entire top with tomato because the tomato bites were decidedly more delicious).
Bake for about 30 minutes, or until internal temperature reaches about 160. (If you are using the shallower pie pan, check on your quiches at 20 minutes.)
Remove from oven and let rest (any jiggliness should set up) for at least 10 minutes, or longer if you have the time.
Subscribe Now
Be the first to read new posts!