Peel Keychain Touch Tool Review
Jul 23, 2020
My husband has turned into a germophobe. He blames me, and I accept this. He's right. But he's a different type of germophobe than I am.
I have always been very mindful of things like touching my face or food when I know I have touched things that could be germy. My approach is basically "don't touch your face or eat anything until you can wash your hands," while his approach has become "don't ever touch anything that could be germy." Enter COVID-19, and his germophobia has gone next level. (Let the record state that I'm truly sorry for what I've done to you, David.)
He ordered us each one of these Peel keychain touch tools, and while it's the prettiest possible version of a thing like this, I just find it to be kind of useless.
Overall take on the Peel
Before it arrived, David told me about it, and I thought it sounded a little gimmicky (pandering to pandemic fear) but maybe kind of helpful. After all, things like ATM buttons are disgusting even when there's not a global pandemic to consider. It took forever to ship (it was ordered May 7 and didn't get here until June 3), and if I'm being honest, I still haven't even opened mine.
Like I said, I'm very mindful about not touching my face (have been ever since I learned that face-touching can cause acne as a teenager), washing my hands, and sanitizing my phone or other items I've touched with dirty hands, so I just haven't felt like it offered much. Let's talk pros/cons.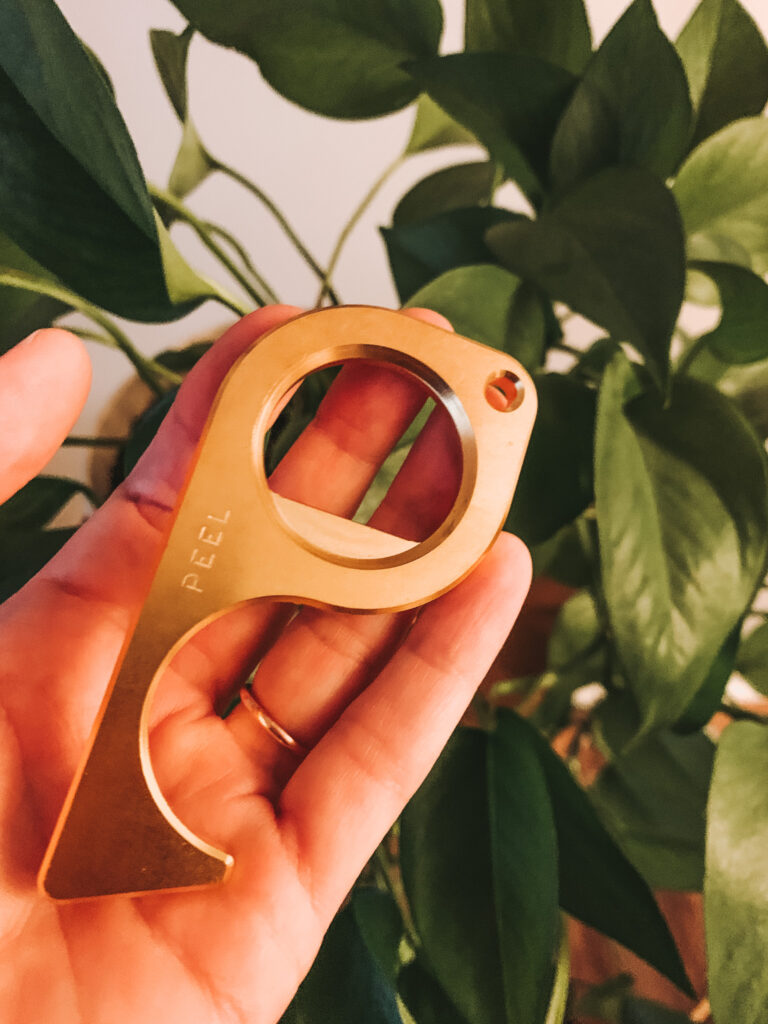 Pros of the Peel Keychain Touch Tool
Pretty. It really is the nicest-looking version of this type of gadget I've seen. It just looks like it's good quality, and the gold makes it look more luxe than the average keychain gizmo.
Substantial/durable. It's heavy. I think this thing could open some pretty heavy doors, and it doesn't seem like it will scuff or dent over time.
Could be used as a weapon?… Lol, but for real. You could definitely use this thing as a self-defense tool… if you're the kind of person who could keep it in a place you could find it if you ever needed to.
Doubles as a bottle opener. Honestly, this seems like the greatest benefit of the Peel. And that's because of all the…
Cons of the Peel Keychain Touch Tool
Doesn't work for touchscreens. Okay, this is seriously the only reason I could see myself using the Peel — to push buttons on ATMs and other public kiosks. But in 2020, the vast majority of these types of systems have touchscreens. The Peel doesn't work on those, which leaves you touching the grody screen anyway.
Heavy. In the pros list, I said that it was a pro that this thing is substantial. But it's also kind of a con. (This might take a second to explain but bear with me.) The Peel is really too heavy and clunky to put on your keys. (I can hear my dad telling me now that I'm going to tear up my ignition with such a heavy thingamabob hanging from my keys.) It's also too large and bulky for pockets on women's clothing (my husband has no trouble carrying it in his pocket but then winds up cussing when the thing doesn't work). So if you did want to carry it, you'd likely stick it down in your purse and lose it in the abyss. You'd find yourself digging and digging and not find it and then wind up using your hands to open the dang door anyway.
Doesn't help with things like pumping gas. Sure, you could probably push the buttons on the kiosk at a gas station with the Peel (most I'm thinking of don't have touchscreens), but then you'd still have to use your hands (or gloves if you prefer) to grab the gas pump. So the Peel adds no advantage in this type of situation.
What I'd Recommend Instead
Just get yourself a bottle or two of hand sanitizer. Keep one in your car, keep one in your purse. Hand sanitizer might not open bottles, but it'll be a way better defense against germs than the Peel has turned out to be.
Subscribe Now
Be the first to read new posts!